Tellerette Ring-Your Cost-Effective Choice
Tellerette packing ring is also called teller ring and tellerette rosette ring. It is well known for its economical and versatile performance characteristics because of its unique annular helix design. This design increases its surface area and the contact between the falling liquid and the rising vapor. And it is more efficient in mass transfer than traditional packing.
has excellent heat transfer efficiency and mass transfer characteristics in gas absorption, air conditioning, etc. Tellerette Ring is widely used for high corrosion resistance and low pressure drop packing in gas absorbers, cooling towers, deaerators, and reaction gas-liquid contact systems.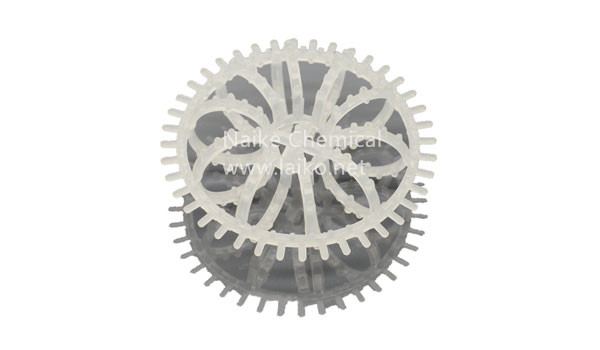 Tellerette Ring Types and performance
is available in different materials such as metal and plastic including polyethylene(PE), polypropylene(PP), reinforced polypropylene(RPP), and polyvinyl chloride(PVC), chlorinated polyvinyl chloride(CPVC), and polyvinylidene fluoride(PVDF) based on different application requirements.
Technical Specification of Tellerette Ring
Product Name

Item

Size D*H*T(mm)

Number per m3

Surface Area  m2/m3

Free Volume %

Metal Tellerete Ring

Dg50

50×25

19180

112.8

96

Dg75

75×27.5

8000

136

97

Dg100

100×40

2600

140

96.5

Dg108

108×45

1760

53.4

95
Product Name

Size D*H*T(mm)

Number per g/m3

Surface Area  m2/m3

Void rate %

Package Density(kg/m3)

Plastic Tellerete Ring

25*9*(1.5*2)

170000

195

82

90

47*19*(3*3)

32500

185

88

111

51*19*(3*3)

25000

180

89

103

59*19*(3*3)

17500

150

92

86

73*28*(3*4)

8000

127

89

80

95*37*(3*6)

3900

94

90

88

145*48*(3*6)

1100

65

95

48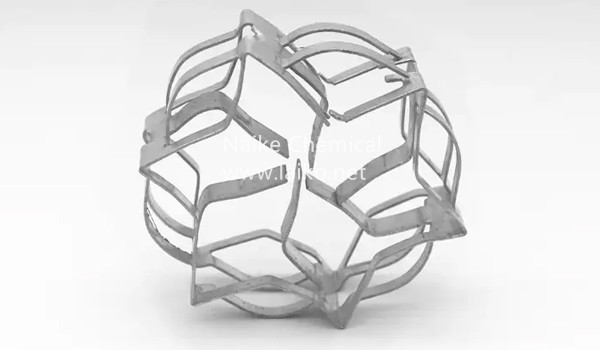 Tellerette Ring Benefits
Advantage:
1. High free volume. Its design provides a large effective surface area per unit packing volume
2. Low pressure drop cuts operating costs. Pressure drop was reduced through filament shape with large void space, therefore the fans or blowers consume less electrical power
3. Larger gas flow capacity, allowing the use of smaller diameter columns at a significantly lower cost
4. High mass transfer efficiency. Retrofit existing towers to increase efficiency and capacity
5. The gas-liquid contact is uniform due to its curvilinear structure and a large number of branches and connections
6. High open area design to reduce dirt
7. Low mass transfer unit height, high flood point
8. Better particle collection by inertial impact
9. High column stability – no classic flooding
Application Of Tellerette Packing
Subject
Gas absorption: SO2, SO3, NH3, CO2, H2S, HCl, Cl2, HF, NOX, organic solvents
Stripping: NH3, CO2, O2, trihalomethane-contaminated water, water containing organochlorine compounds
Cooling: air cooling (liquefaction) and water cooling
Chemical Reactions: Black Liquor Oxidation and White Liquor Oxidation
Dehumidification: Air and Water Vapor in Cl2
Application:
The application temperature in the medium ranges from 60°C to 150°C and is widely used in packed towers in the petroleum industry, chemical industry, alkali chloride industry, gas industry, and environmental protection industries.
1. H2SO4/ammonium sulfate industry: SO2, SO3, NH3, absorbers, scrubbers
2. Soda ash industry: chlorine drying tower
3. Steel/coke industry: coke oven gas desulfurization tower, coke oven gas medium/light oil collector, gas cooling tower
4. Oxygen generator: air cooling
5. Thermal power generation: flue gas desulfurization
6. Chemical industry: H2S, HCI, CL2, HF, NOx elimination, organic solvent recovery
7. Pulp industry: black/white liquor oxidation
8. Water purification: ammonia, trihalomethane, trichloroethylene stripping
9. Sewage treatment: deodorization
Conclusion
As you can see, the is a cost-effective choice for your production lines. We Naike Chemical are producing and selling for more than 10 years. If you contact us, Naike Chemical is confident that we will be able to provide you with the finest quality.