Pall Ring Packing is Widely Used
Pall rings are one of the most basic and widely used types of column packing. They are a versatile, affordable option for distillation, absorption, and stripping operations which include high-volume and high-temperature processes. Pall ring packing has greatly improved previous packing methods so much that it is still considered one of the most effective packing methods even today.
As a leading supplier of random column packing, Naike Chemical manufactures plastic, ceramic, and metal pall rings for industrial use. We combine quality with affordable prices and provide solutions based on your mass transfer challenges.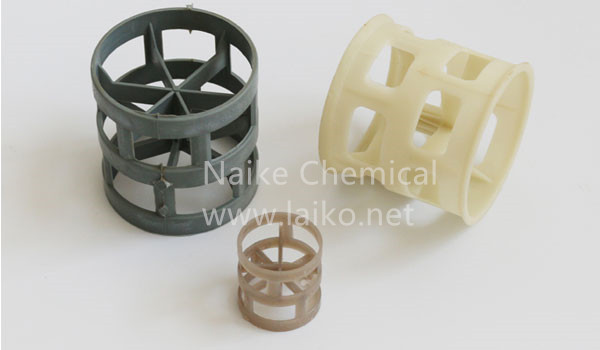 What is Pall Ring Packing?
The is formed by opening one or two layers of windows on the wall of the Raschig ring, and the upper and lower layers of windows are staggered. One side of the window blade cut by the opening is connected with the parent body of the ring wall, and the other side is bent into the ring. The bending directions of the upper and lower layers of blades are opposite and they almost butt in the center of the ring. The inner and outer spaces of the ring are connected by the opening so that the liquid and gas are evenly distributed. Therefore, the resistance, flux, and mass transfer efficiency are significantly improved compared with Raschig rings. In addition, this modified design reduces the pressure drop across the column. The crossed structure of the pall ring makes it mechanically robust and ideal for deep packing beds. Look for the ? is a leading , click to view more!
Types Of Pall Packing: Metal Pall Ring, Plastic Pall Ring, Ceramic Pall Ring

Plastic Pall Rings

can be made into different shapes according to different uses. For example, they are gaining popularity in gas and liquid separator applications. They have excellent chemical resistance, temperature stability, and mechanical strength. According to material, plastic pall ring includes Polyethylene Pall Rings, RPP Pall Rings, PVDF Pall Rings, PVC Pall Rings, and CPVC Pall Rings.
Compared to high-performance packings, plastic pall rings are less sensitive to the quality of liquid distribution and have higher residence and residence times. While plastic pall rings do not have "high performance" properties, they are known for their performance.
Metal Pall Rings
are more resistant to corrosion and rust than plastic pall rings in very harsh surroundings. Metal Pall rings are mainly made of carbon steel, galvanized steel, and other materials.
Metal Pall Rings are used in quench towers, direct contact cooling applications, atmospheric pressure separation, and absorption applications, where vacuum is critical to low pressure drop, and stripping applications.
Ceramic Pall Rings
has a cylindrical shape with open walls and inwardly curved tabs. Generally, the opening area accounts for 30% of the total area of the cylinder wall. This design maximizes surface area while minimizing the number of profiles, allowing free flow of gases and liquids while greatly reducing the potential for entrainment. Ceramic Pall Rings have good mechanical strength and a non-porous surface. Ceramics are inert and iron-free, so they won't rust or react when used with harsh chemicals.
Pall Rings vs. Raschig Rings
Pall ring packing is a modern form of packing that can be used as carbon dioxide degassing towers, ozone contacting towers, etc. But Pall ring packing is very different from Raschig ring packing:
The main difference between Pall ring and is that the side wall has a rectangular window hole, and the slats of the window hole are bent into the center of the ring. Due to the opening of the ring wall, the distribution of gas and liquid is better than that of Raschig rings. Larger improvements, especially the inner surface area of the ring, can be fully utilized. Pall ring packing has the advantages of large flux, low resistance, high separation efficiency, and large operational flexibility. Under the same reduced pressure, the processing capacity can be more than 50% larger than that of the lace ring. Under the same production volume, the pressure drop can be reduced by half, and the mass transfer efficiency can be increased by about 20%. Compared with Raschig rings, Pall ring packing has the characteristics of large production capacity, strong resistance, and great operational flexibility. In general, the processing can be 50%-100% larger than the Raschig ring, and the pressure drop ratio is also processed. The Raschig ring is 50%-70% smaller and the tower height also reduces the pressure. Pall rings can be used for approximately 20%-40% of the Lacy ring packing volume.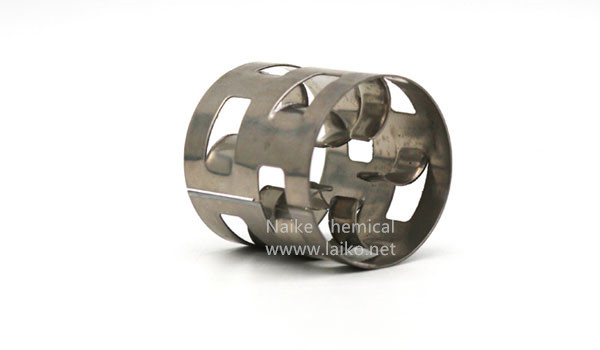 What Is A Pall Ring Used For?
Ethylene extraction column;
Mass transfer column separation device;
Carbon dioxide and hydrogen sulfide absorbers and flash towers;
liquid extractor;
carbon monoxide converter;
Dimethyl terephthalate run column;
NH3 extraction device;
Petrochemical and medical equipment.