Lithium Molecular Sieve Used In Oxygen Generators
Lithium molecular sieve for small oxygen concentrators
There are two common types of molecular sieve for small oxygen concentrators: Lithium molecular sieve and NaX molecular sieve. The LiX zeolite is more effective than NaX zeolite and therefore it is able to decrease the dimension of oxygen generators and makes the oxygen concentrators smaller and more convenient to take along. However, the cost of a NaX molecular sieve is much less than Lithium molecular sieve that which is very popular in the market as well.
Nake chemical is a professional in oxygen generators molecular sieve manufacturing. In our product models, the NKOX series is a lithium molecular sieve, and the 13X HP series is NaX molecular sieve.
NKOX-101, NKOX-102 and 13X HP (0.4-0.8mm) are used for small oxygen concentrators. Below is a comparison chart of their application parameters:
| | | | |
| --- | --- | --- | --- |
| Parameter | NKOX-101 | NKOX-102 | 13X HP |
| Diameter | 0.4-0.8mm | 0.8-1.2mm | 0.4-0.8mm |
| Static Nitrogen adsorption (ml/g) | ≥28 | ≥28 | 8.5~9 |
| Nitrogen/Oxygen separation coefficient | ≥6.2 | ≥6.2 | >3.4 |
| Bulk density(g/ml) | ≥0.62 | ≥0.62 | ≥0.62 |
Molecular sieve NKOX-101 and 13X HP (0.4-0.8mm) are designed particularly for medical oxygen concentrators that adopted a pressure swing cycle to produce high purity oxygen.
HP (0.4-0.8mm) is recommended for 3L,5L,10L,20L min portable oxygen concentrators, and NKOX-101 is recommended for smaller size portable oxygen concentrators. The Nitrogen/Oxygen separation coefficient and Nitrogen adsorption of NKOX-101 are much higher than 13X HP (0.4-0.8mm).
Either our NKOX series or 13X HP series have high nitrogen volume and more advanced nitrogen/oxygen selectivity in comparison to corresponding products in the market. It means that the use of the material is obviously less than other molecular sieve adsorbents while the oxygen throughput or purity will not decrease.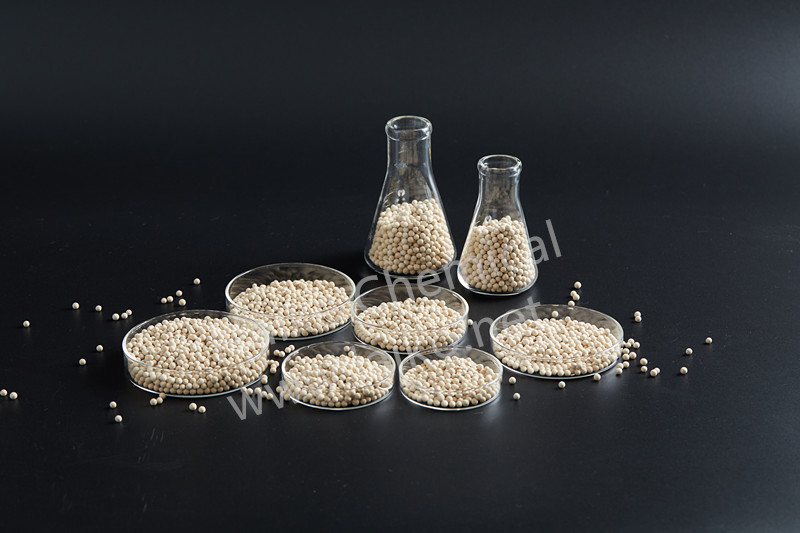 Molecular sieve for PSA and VPSA Oxygen Generators
About , there are two main oxygen generation methods are PSA and VPSA, and a molecular sieve is needed in both. During the adsorption and desorption process, the nitrogen and oxygen are separated inside the equipment to get high-purity oxygen. However the argon is hard to be separated by molecular sieve due to its properties being similar to the oxygen, therefore the oxygen purity is
In cost of initial investment, VPSA oxygen manufacturing facility is higher than the PSA facility. But in cost of later operation, PSA equipment has higher energy consumption and higher maintenance cost. When the request for oxygen is higher, the PSA equipment loses economic advantage because of a large area of equipment and high energy consumption.
The Nax molecular sieve 13X HP(1.6-2.5mm), CaX molecular sieve(1.2-2.5mm), and LiX molecular sieve NKOX-100, NKOX-103 manufactured by Naike chemical are used particularly for PSA and VPSA oxygen production. All of them have large adsorption volume, great Nitrogen/Oxygen separation coefficient, excellent crush strength, and good dynamic adsorption performance. They have been used broadly since entering the market, and their quality and performance have been tested by the market as well. The parameters of the above types of oxygen generation molecular sieve are as follows for your reference:
| | | | | | |
| --- | --- | --- | --- | --- | --- |
| | 13X HP | CaX | CaX | NKOX-100 | NKOX-103 |
| Diameter | 1.6-2.5 | 1.2-1.8 | 1.6-2.5 | 1.6-2.5 | 1.3-1.7 |
| Crushing Strength | ≥30 | ≥12 | ≥18 | ≥17 | ≥16 |
| Static Nitrogen adsorption (ml/g) | 8.5~9 | ≥22.0 | ≥22.0 | ≥25 | ≥26 |
| Nitrogen/Oxygen separation coefficient | >3.4 | ≥4.1 | ≥4.1 | ≥6.2 | ≥6.3 |
| Bulk density(g/ml) | ≥0.62 | 0.62-0.68 | 0.62-0.68 | ≥0.62 | ≥0.61 |